Should I Get Prescription Sunglasses?
Looking into Prescription Sunglasses
Sunglasses are the go-to accessory for sunny days. Or maybe you find yourself switching between your prescription glasses and sunglasses when driving or enjoying summer sports. Choosing between sharp vision and defense from glaring brightness can be a pain.
But you don't have to choose. Prescription sunglasses combine corrective and sun-safe lenses. As a result, you can enjoy the fashion and protection of sunglasses without losing focus.
Even people who prefer contact lenses can savor the perks of prescription sunglasses. When your eyes are irritated or you lose a contact, your shades can be a fashionable backup.
Before you buy your next pair of sunglasses, talk to your optometrist or optician about prescription sunglasses. Getting an eye exam before buying ensures your prescription is accurate and the lenses correctly positioned.
There's more to sunglasses than what meets the eye. So whether you spend most of your time outside or like the ease of an all-in-one accessory, it might be time to give sunglasses a second glance.
Better Sight in Any Style
In the early days of lens technology, not all frames could fit every corrective lens. Some lenses were too thick or couldn't be molded to match the same shape. Today, it's a lot easier. Your prescription doesn't limit your style.
You can be creative with your search for sunglasses because most brands and styles can accommodate your prescription, including myopia (nearsightedness), hyperopia (farsightedness), multifocal, bifocal, and progressive lenses.
Selecting sunglasses on your own can sometimes seem like wandering through a labyrinth. Ask your optometrist or optician instead for direction. They know which options are best for your prescription. You might be surprised how many are available!
Your optometrist or optician can help find prescription sports eyewear with UV protection for any level of activity.
Stay Sun-safe All-Year Long
Your shades might sit collecting dust every other day of the year, but during summer, your sunglasses are always with you. But sunglasses are an essential tool for UV protection all year long.
Too much UV light can be harmful to your eye health. Prolonged exposure can cause eye diseases and other conditions, including cataracts, ocular cancer, pterygium, eye growths, photokeratitis, or snow blindness.
While wearing sunglasses is an important part of shielding your eyes from sun damage, regular eye exams can help prevent and diagnose eye disease.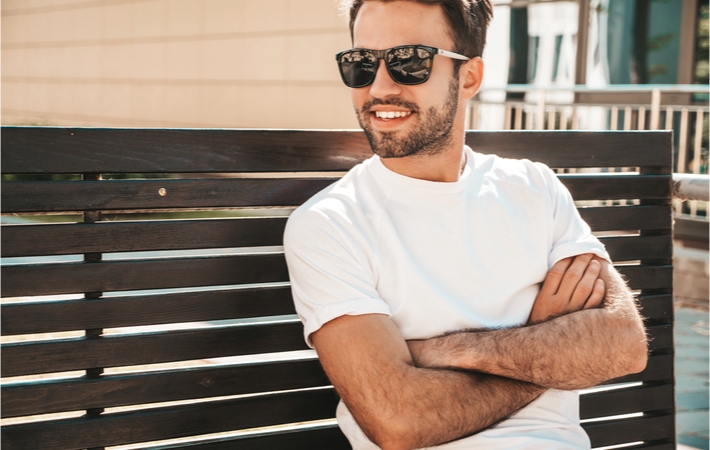 Tips for Choosing Sunglasses
Bigger is better when it comes to sunglasses. From oversized to wrap-around, larger lenses provide more surface area to block sun damage. However, make sure you're admiring more than size when inspecting your shades.
Check if your preferred sunglasses offer UV protection or are polarized. Although polarized lenses reduce glare and eyestrain, they won't resist harmful UV rays. Polarized sunglasses can be handy when you need crisper vision to perform an activity. When paired with other UV protection, polarized sunglasses can be helpful for exceptionally bright environments.
Look for 100% UV protection or absorption. Your eyes deserve the best protection available, so don't settle for less. Some brands may use alternative labels. For example, UV absorption up to 400 is equal to 100% UV protection.
Labels can be tricky, but you don't need to rely on guesswork or an internet search. Instead, ask your optometrist or optician for a label translation if you're scratching your head about your sunglasses' UV rating.
If you love funky colors, don't hold back. Color doesn't impact the quality of your sunglasses. You can find a rainbow of UV protection lenses. Darker shades don't equal better sun-block, and lighter doesn't mean more glare. Choose a color to match your comfort.
Some colors offer better contrast or affect the tones we perceive. For example, gray is popular as a neutral tint for more natural-looking colors. Yellow or orange-tinted sunglasses can increase contrast and can make objects appear sharper.
It's a personal preference, which is why trying on before you buy can help you make a clearer decision.
Finding Your Prescription Sunglasses
You don't have to sacrifice good eye care to look good. When you're ready to update your sunglasses, your optician or optometrist can help you find the right look. They're experts in the science behind lenses. For the best sun protection that suits your eye care needs, book an appointment so you can look great and stay safe.